Premium Domain Name For Sale
Always on the lookout to buy great domains, this evening we were looking into some luxury related domain names for a client…and we found Luxury.com for sale on Godaddy.com
The interesting thing is that the buy now price is only (USD) $27000.00
( UPDATE TO THIS POST – My hunch proved true – Godaddy's premier services did some digging and found out that the listing was a fraud! There was no way that Luxury.com was going to be listed with a buy now price of 27k!!! )
Now you may be thinking that's a lot of money…but when voice.com just sold for $30 million dollars (you can read more about that on dnjournal), and other one word premium domains sell for high 6 figures, and seven figures, this is an absolute steal! I called Godaddy and asked if they could confirm this truly was for sale…and they stated it was registered with NetworkSolutions.com, but it's a private reg.
If you go to Luxury.com it directs you to www.mbcm.com/return-to.htm and on that site you see they (claim) to be the owners of many other premium domains. So maybe this is actually for sale! But for $27k….really? Something seems extremely fishy about this!!!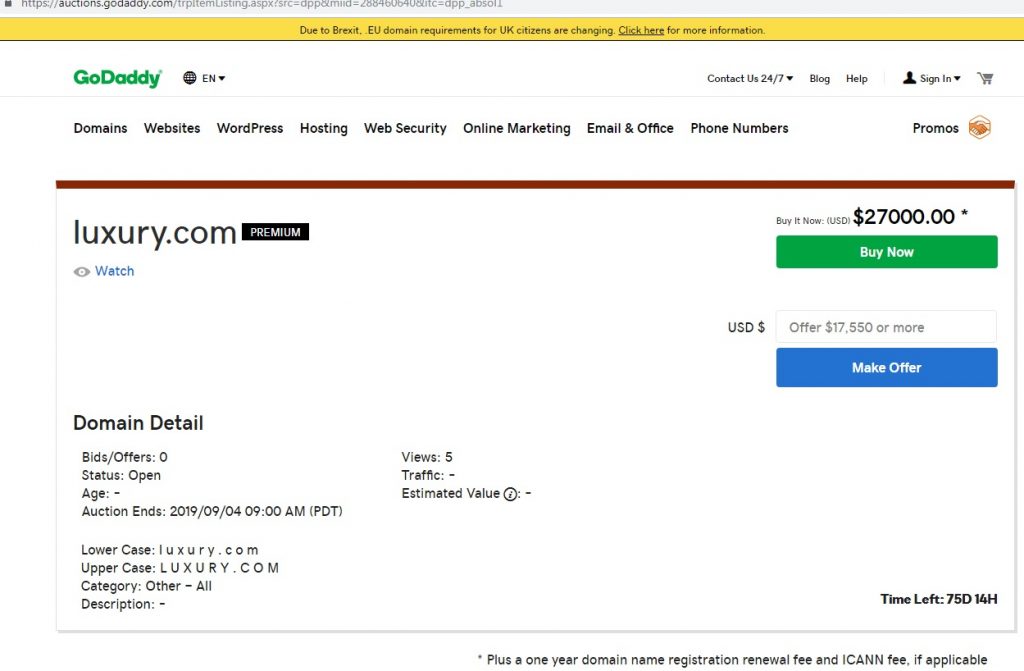 After discussing this with a premier services rep at Godaddy he stated the only downside of buying it now at the 27k buy now price is that if it an error, old listing, some kind of scam, etc…that our money would be tied up for 15 – 20 days. He suggested that I call in tomorrow to speak with my account rep and try and get the scoop on it. I will surely do so!
This year has included several 5 figure domain acquisitions…that after last years round of several 5 figure acquisitions. So this would be the cherry on top. I will definitely share an updated post about the status of this domain tomorrow, or over the course of the next few days.
Many people of been emailing asking why there have been NO POSTS this years (the previous post a few minutes ago is an amended repost), and the honest answer is time just flew by! With so many exciting projects, almost a hundred websites developed in 2019, and two new apps being developed for clients 6 months has literally past in the blink of an eye!
And the best part of it is that none of it feels like 'work'.
Hope you're having an amazingly exciting, productive 2019 as well! Would love to hear your thoughts on luxury.com and if you think this is a legit listing?