Are you looking for the best domain names or need to find a domain name broker?
eProperty Lease provides premium domain name leasing services, domain build-out and development services and domain name broker services. Domain name leasing services brought to you by the domain leasing experts at ePropertyLease.com can help you obtain the domain name you need or manage your domain name portfolio. Our domain portfolio management services include domain name development, domain leasing services, domain broker services and domain monetization services.
Reasons for leasing a Domain Name
Some reason's why a business might rent a domain name instead of buying, for example:
Leasing often requires only a small monthly fee instead of a large fee upfront when buying.
New small business owners can benefit by saving capital.
If a domain name is only needed for a short amount of time.
If one is a startup business domain leasing is a great way to test the outcome.
There are also tax benefits of leasing a domain name.
Some companies that offer a domain leasing or rental service also give the option for the user to buy the full rights to the domain name either after a certain amount of time (leasing) or at any time (rental).
Domain Name leasing and rental companies may also offer Search engine Optimization services as part of the leasing or rental package.
Domain Name Leasing
The purchase, sale and leasing of domain names represents online transactions based upon virtual real estate. Leasing a premium domain can help those that use it by increased search engine hits, links from affiliated websites and even instant name recognition. Domain leasing helps provide positive cashflow for domain investors and help those that lease the domain name by increased traffic, leads and sales.
Domain leasing is an alternative proven financing method for both the buyer and domain owner of any domain to come together and benefit each party. If certain domain names have been unattainable due to price restrictions then leasing agreements can solve the problem. Domain Name Leasing is an excellent way to have a strategic marketed Domain redirect to your particular website or be used directly to increase sales.
Leasing is a process by which a company or individual can obtain the use of a certain fixed assets for which it must pay a series of contractual, periodic, tax deductible payments. The lessee is the receiver of the services or the assets under the lease contract and the lessor is the owner of the assets. The relationship between the tenant and the landlord is called a tenancy, and can be for a fixed or an indefinite period of time (called the term of the lease). The consideration for the lease is called rent.
Domain Name Leasing (or renting a domain name) is a great way to get the asset you want without having to buy a domain name out right which in some cases can range well into the 7 figures.
Domain Name Leasing Company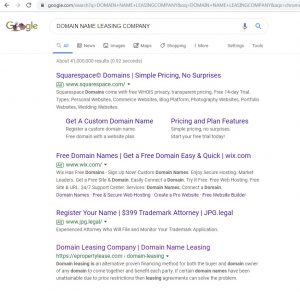 Why work with us? Simple answer, just do a Google search for domain name leasing company, and you will see that we are the #1 domain name leasing company!
Yes that is a screenshot of us ranking #1  on Google for domain name leasing company!
This is not by accident, and yes we have developed well over 1000 domains, and continue to work with amazing domainers, entrepreneurs, and local business owners that seek the best domain development company.
We also created a proven system of researching, acquiring, and developing domains to dominate the local search engines. Any business that is not following our process is getting DOMINATED by those that do.
Period!
If you are looking to lease a domain name or want to lease a domain name you own, ePropertyLease.com provides the domain leasing services to assist you. Please contact us to learn more.